Fox brings The French Connection to DVD in December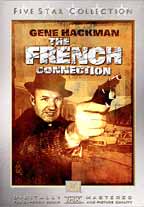 Picture the printed equivalent of the writer jumping up and down and waving his arms excitedly.
We've just received word that 20th Century Fox Home Entertainment will bring a holiday present to movie lovers with the DVD release of The French
Connection this December.
William (The Exorcist) Friedkin directed this 1971 film that won 5 Academy Awards, including Best Picture. "The French Connection" is a tough police drama that portrays two New York City cops trying to intercept
a huge heroin shipment coming from France. Based on an actual case, Gene Hackman won the Academy Award for Best Actor for his portrayal of real-life detective Jimmy "Popeye" Doyle, a short-tempered alcoholic bigot who is determined to arrest the leader
of a heroin ring. Also starring Roy Scheider and Fernando Rey, the movie boasts gritty location shooting, terrific editing (another Oscar), and one of the greatest car chases ever filmed.
The disc will feature an anamorphic widescreen transfer of the
print and both Dolby Digital and DTS 5.1 audio tracks. Bonus features will include an audio commentary by director William Friedkin, deleted scenes and the theatrical trailer.
The scheduled release date is December 26th, so save a few pennies for some after-holiday shopping. The suggested retail price has not yet been announced, but really, who cares how much it will cost? We want it yesterday…