For adventurous film lovers: Begotten comes to DVD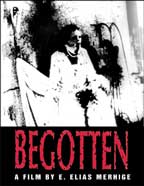 Think you've seen it all? Trust me when I say that you have never seen anything like Begotten, which is being prepared by World Artists Home Video for a January release on DVD.
'Begotten' (1991), which has been praised for its artistic originality and described as a 'metaphysical splatter film' for its gruesomely chilling images, has taken its rightful place as one of the great nightmare cult classics. Told without dialogue, it is the extraordinary first film by E. Elias Merhige, director of the upcoming The Shadow of the Vampire (coming to theatres December 29). 'Begotten' is the creation myth brought to life, the story of no less than the violent death of God and the (re)birth of nature on a barren earth. Astounding and baffling critics and audiences alike, 'Begotten' was named one of the Ten Best Pictures of 1991 by Time Magazine. Time's Richard Corliss wrote: "Nobody will get through 'Begotten' without being marked… it is a spectacular one-of-a-kind (you wouldn't want there to be two), filmed in speckled chiaroscuro so that each image is a seductive mystery, a Rorschach test for the adventurous eye."
The disc contains a full frame transfer with digital sound. Special features include: a souvenir booklet; the original theatrical trailer, and rare, never-before-seen stills and color production photos.
This disc will be available in January with a suggested retail price of $29.95.
Be prepared for this one. It's a risky, challenging film, but well worth it for those with a taste for the highly unusual…