Follow the Way Of The Gun on DVD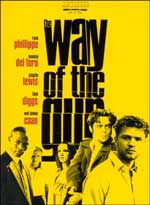 Artisan Entertainment wants to take you on a comically violent (or is it 'violently comic'?) ride this December when they release Way Of The Gun (Special Edition) on DVD.
From the Oscar winning screenwriter of The Usual Suspects (Christopher McQuarrie, who also directed), this wickedly off-beat mix of crime, comedy and gunplay stars Ryan Phillippe and the always terrific Benicio del Toro. Convinced they'll score big money fast by kidnapping a young surrogate mother (Juliet Lewis) carrying the child of a wealthy Southwestern couple, two small-caliber crooks soon run into major problems. Realizing too late that they're in over their heads, the kidnappers fight to keep their plan from unraveling amid a rising tide of bloodshed, mind games and greed.
The film also stars James Caan, Taye Diggs, Nicky Katt, Scott Wilson, and Dylan Kussman.
The disc will contain an anamorphic widescreen transfer of the movie with Dolby Digital 5.1 sound. Extras include an audio commentary, production notes, story boards and script of a deleted scene, isolated film score with commentary, TV spots, cast/crew bios and interviews, and the theatrical trailer.
The disc is scheduled for release on December 19th. It will carry a suggested retail price of $24.98.