First wave of MGM titles highlighted by release of When Harry Met Sally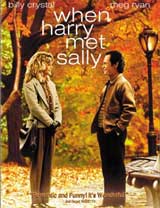 MGM opened up the floodgates with its announcement of releasing many catalog films to DVD, and we're now seeing the first wave of movies. Now, many fans will be pleased to hear that in early January they will be able to purchase When Harry Met Sally (1989) (Special Edition).
One of the best loved modern romantic comedies, 'When Harry Met Sally' is the story of how Harry (Billy Crystal) and Sally (Meg Ryan) meet on an uncomfortable road trip after college graduation. Through the next 10 years, the two become close friends and vow to keep their friendship platonic. Over time, Harry and Sally's hearts slowly change for one another, making it difficult admitting their love.
The disc will feature an enhanced widescreen transfer, letterboxed at 1.85:1, with a Dolby 2-channel surround soundtrack. Bonuses include deleted footage, an audio commentary, Harry Connick Jr. music video, a making of featurette, interviews with Rob Reiner, Nora Ephron, Carrie Fisher, Billy Crystal and the crew, and a trailer.
The release date is scheduled for January 1st, and the disc will carry a suggested retail price of $24.98.
We'll have what she's having…