Experience the fine irony of "Coyote Ugly"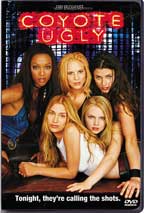 Get ready for a rowdy (not to mention gorgeous) time as Buena Vista Home Video is currently preparing the January DVD release of Coyote Ugly.
21-year-old Violet Stanford moves to New York to pursue her dream of becoming a songwriter. She gets a day job at 'Coyote Ugly', the hottest bar in town run by Lil, where the customers come not just for the drinks but to see the sexy barmaids and their wild form of entertainment. The dramatic tension rises as Violet tries to balance her dedication to her art with the pull of a wild and lucrative life style.
Directed by David McNally, the movie features the dramatic stylings of Tyra Banks, Juliet Neil, Piper Perabo, Adam Garcia, Maria Bello, Izabella Miko, Melanie Lynskey, and Bridget Moynahan.
The disc will feature an enhanced widescreen transfer of the film, letterboxed at 1.85:1, and will include a Dolby Digital 5.1 soundtrack. Extras include: an audio commentary, deleted scenes, music videos, and a 'making of' featurette.
'Coyote Ugly' will be coming our way on January 16th, with a suggested retail price of $29.99.
Hey, everything doesn't have to be Shakespeare. Sometimes you just want to sit back and have a few drinks served to you by a bevy of performing supermodels…what's wrong with that?