DVD gets a taste of The Lemon Sisters in November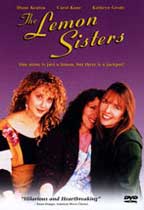 Anchor Bay Entertainment plans a tasty treat for audiences this November with the release of The Lemon Sisters (1990) on DVD.
Eloise (Diane Keaton), Franki (Carol Kane) and Nola (Kathryn Grody) met at an Atlantic City beauty pageant when they were nine. They formed a singing group called "The Lemon Sisters" and vowed to remain friends always. Numerous boyfriends, diets, and late-night phone calls later, The Lemon Sisters are still together as an act, but the world has become a much different place. As the casinos invade the boardwalk of the their beloved hometown, the three women find that time changes everything. But is friendship forever? The Lemon Sisters is a winning romantic comedy about real life, good times, and the jackpots that can only be shared by the best of friends.
Directed by Joyce Chopra, the film stars Carol Kane, Diane Keaton, Kathryn Grody, Elliott Gould, Aidan Quinn, and Ruben Blades.
Anchor Bay will present "The Lemon Sisters" in an anamorphic transfer, letterboxed at the film's original ratio of 1.85:1. Sound is Dolby Digital 2-channel stereo. The disc will include the film's original trailer.
The release date for this disc will be November 14th, and it will carry a suggested retail price of $24.98.