Dreamworks takes The Road To El Dorado to DVD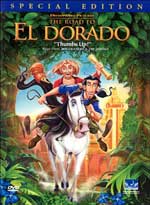 The folks at Dreamworks are hoping to strike gold when they bring the animated feature The Road To El Dorado to DVD this December.
Two con-men get hold of a map to the lost City of Gold, El Dorado. After stowing away on one of the ships of the Spanish explorer Cortes, the pair escapes and eventually do find the city. There a priest proclaims them to be gods in a scheme to win control of the city for himself. Meanwhile, they meet a beautiful girl who helps them in their ruse…
Directed by Bibo Bergeron, Will Finn, David Silverman, and Don Paul, the movie reunites the Oscar-winning musical team from the Lion King – Elton John, Tim Rice and composer Hans Zimmer. It also features some top-notch actors lending their voice talent to the characters: Kevin Kline, Elijah Chiang, Kenneth Branagh, Rosie Perez, Armand Assante, and Edward James Olmos are among the cast.
Dreamworks will present 'The Road To El Dorado' in a widescreen presentation, enhanced for 16×9 TVs, with both Dolby Digital 5.1 and DTS 5.1 audio tracks. Bonus features are plentiful and include behind-the-scenes footage, audio commentary, music videos, a 'making of' featurette, production notes, theatrical trailer, parental lock, and special DVD-ROM features that include: games; arts & crafts; coloring pages; pattern matching activity; a screensaver, and a read along.
The scheduled release date for this packed disc is December 12th. The manufacturer's suggested retail price is $26.99.