Don't forget to pack your handkerchiefs, it's "Autumn In New York"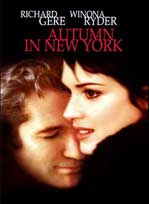 If you love a good cry (as many of us here do), you'll be happy (is that paradoxical?) to hear that MGM Home Entertainment is getting ready to release the DVD of Autumn In New York.
Autumn in New York follows the sexual exploits of Will Keane (Richard Gere)—New York restaurateur, infamous verging-on-50 playboy, master of the no-commitment seduction—until he runs into an unexpected dead end when he meets Charlotte Fielding (Winona Ryder). Charlotte is half Will's age and twice his match, a 21 year-old free spirit yearning to get out and taste the excitement of adult life. She is the one woman who could claim his heart forever—if only she had forever to give.
Directed by the talented (not to mention beautiful) Joan Chen, 'Autumn In New York' boasts a fine cast which includes: Richard Gere, Winona Ryder, Anthony LaPaglia, Elaine Stritch, Sherry Stringfield, Jill Hennessy, and Mary Beth Hurt.
The disc will come with both an anamorphic widescreen and a Pan & Scan transfer, and a Dolby Digital 5.1 surround audio track. There are no announced extras at this point, apart from French and Spanish subtitles.
Autumn In New York is scheduled for release on January 2nd. The suggested retail price will be $26.98.
No, honey, nuh uh, I just got something in my eye for a moment there….