Columbia hopes they have a winner with "Loser"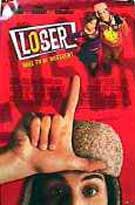 Columbia TriStar Home Video has announced the December release of the teen comedy Loser on DVD.
Described as a comedy about trusting yourself, taking a chance and turning your back on the people who take advantage of you, 'Loser' stars Jason Biggs and Mena Suvari as NYU students who are having trouble making it through their first year of college in the Big Apple. A series of events forms a bond between them, but she fails to realize the romantic turn their relationship has taken in his eyes.
The movie was directed by Amy Heckerling, whose Fast Times at Ridgemont High helped define 80s youth culture. In addition to its leads, it also stars Dan Aykroyd, Greg Kinnear, Andy Dick, and Steven Wright.
Columbia will present 'Loser' in both an anamorphic widescreen print in the film's original ratio of 1.85:1, and a Pan and Scan version. Sound is Dolby Digital 5.1. The disc comes with several choices of language, including French, Portuguese, and Spanish, and features subtitles in Chinese, English, Korean, Portuguese, Spanish, Thai, and French. Not missing a lot of folks with this release, huh? Extras include: a Wheatus music video "Teenage Dirtbag", a "making of" featurette, trailer, production info, and cast/crew biographies.
'Loser' will be released on December 12th, and will carry a suggested retail price of $24.95.