Columbia gets in the "Groove" this December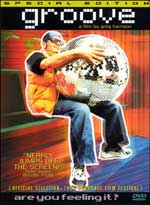 Columbia/TriStar Home Video wants to invite you to your own personal Rave when they release Groove to DVD this December.
A single e-mail blips through the Internet. The world spreads quickly through the city: the party is on! Saturday evening, two hundred people secretly converge at an abandoned warehouse. As the sun sets, the records start spinning, setting into motion a night that no one will forget.
Directed by Greg Harrison, this inside look at the San Francisco underground rave scene stars a host of young newcomers: Lola Glaudini, Denny Kirkwood, Rachel True, Steve Van Wormer, Ploywog and Wishfm (uh, huh), and John Digweed (hmmm, really?).
Columbia is putting both an anamorphic widescreen and a Pan and Scan version of the movie on this disc. Audio tracks include both Dolby Digital 5.1 and ProLogic surround. Bonus features include an audio commentary, deleted scenes, an isolated film score, bios of the cast and crew, music videos, a photo gallery, and behind-the-scenes footage.
'Groove' is scheduled for release on December 5th and will carry a suggested retail price of $24.95.
I'm not nearly hip enough to write a tag line for this one….