Anchor Bay will Tie Me Up! Tie Me Down! this November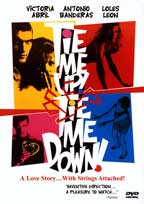 Anchor Bay Entertainment is bringing the fascinating and controversial film Tie Me Up! Tie Me Down! (1990) to DVD in November.
From Academy Award winning writer/director Pedro Almodovar comes an outrageous comedy about love, sex, and the obsessions that tie it all together. Antonio Banderas stars as Ricky, recently released from a mental ward and longing to settle down with a loving wife and family. For his bride, he chooses B-movie queen Marina (Victoria Abril), whom he kidnaps and holds prisoner. As their bizarre relationship develops, they discover an uncommon love that is bound by more than just pleasure and pain. One of Almodovar's most acclaimed comedies, "Tie Me Up! Tie Me Down!" features a star-making performance by Antonio Banderas, as well as explicit scenes of sexuality that created worldwide controversy. The film carries an NC-17 rating.
The movie will be presented in a widescreen transfer, letterboxed at 1.85:1, and enhanced for 16X9 TVs. Audio will be a Dolby Digital 2.0 soundtrack in the original Spanish language with English subtitles. A trailer will be included on the disc.
The disc will be released on November 28th and will have a suggested retail price of $29.98.
See it with someone special…