We have the details on Criterion's Fiend Without A Face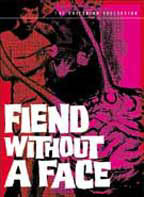 Though recently announced, we now have the details on The Criterion Collection's release of the terrific British horror film, Fiend Without A Face (1958).
A scientist's thoughts materialize as an army of invisible brain-shaped monsters that terrorize an American military base. The brains fly around with spinal cord tails, chasing after human prey and giving new meaning to the term 'brain food'. This outstanding sci-fi/horror hybrid is a special effects bonanza and a high watermark in British genre filmmaking.
Directed by Arthur Crabtree, the film stars Marshall Thompson, Terry Kilburn, Michael Balfour, Gil Winfield, Shane Cordell, Stanley Maxted, James Dyrenforth, and Kim Parker.
Criterion gives us an enhanced anamorphic transfer, in the film's 1.66:1 aspect ratio, and an Dolby Digital Mono soundtrack. Extras include an audio commentary, a photo gallery, production notes, and the theatrical trailer.
The release date for the disc is November 14th. It will carry a suggested retail price of $39.95.