Warner Home Video introduces The In-Crowd to DVD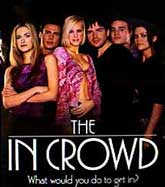 We've just received word that Warner Home Video will be releasing The In-Crowd to DVD this November.
New to Cliffmont Country Club? Relax. You've got all summer to soak it all in. Tennis, golf, sailing, rippled hunks, awesome babes, jealousy, murder – just name your sport when young hotties gather at Cliffmont in this stylish suspense thriller.
'The In-Crowd' is a horror-comedy from Mary Lambert, the director of Pet Sematary. It stars Susan Ward, Lori Heuring, Daniel Hugh Kelly, and Matthew Settle.
We don't have any details about the disc yet, but you just know we'll let you know as soon as we know…y'know?
We do know that the disc will be released on November 28th and will have a suggested retail price of $19.98.