Warner Home Video brews up The Perfect Storm on DVD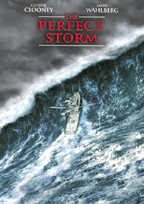 We have just received the official announcement and details about Warner Home Video's release of The Perfect Storm. Scheduled for release on November 14, "The Perfect Storm" will be another one of Warner's remarkable special edition day and date releases, filled to the rim with extras and bonus materials.
In October 1991 the world witnessed "the perfect storm" — a tempest that may happen only once in a century — a nor'easter created by so rare a combination of factors that it could not possibly have been worse. Creating waves ten stories high and winds of 120 miles an hour, the storm whipped the sea to inconceivable levels few people on Earth have ever witnessed. Few, except the six-man crew of the Andrea Gail, a commercial fishing boat headed towards its hellish center. A cinematic experience at its most exhilarating and terrifying, "The Perfect Storm," based on Sebastian Junger's best-selling account, offers a breathless sense of being gripped by a force of nature beyond human control.
The DVD that Warner Home Video has been preparing for this film, starring George Clooney, Mark Wahlberg and Mary Elizabeth Mastrantonio, will present the movie in its widescreen aspect ratio in a 16×9 enhanced transfer and feature a Dolby Digital EX audio track. The disc contains no less than three separate commentary tracks, one by director Wolfgang Petersen, a second one by author Sebastian Junger, and a third one featuring visual effects supervisor Stefen Fangmeier. The DVD also contains a gallery of Production Stills set to John Mellencamp's "Perfect Storm" theme, "Yours Forever". Three featurettes will also be part of the release, such as a "HBO First Look" documentary, the documentary "Witnesses to the Storm," and a "Making of" documentary with composer James Horner called "Creating the Emotion." The DVD also features trailers, special effects mini-documentaries and an Internet multiplayer game.
Priced at $24.98, it looks like Warner Home Video is brewing up quite an impressive release with this disc, so mark your calendars.