Universal Home Video creates a Legend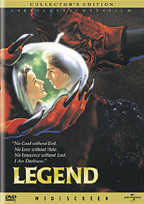 The long wait is finally over, as Universal Home Video announces the release of Ridley Scott's 1986 movie, Legend. Scheduled as a Collector's Edition for release on November 21, Universal Home Video has added quite a number of special features to this highly anticipated fantasy epic starring Tom Cruise and Tim Curry.
When a unicorn is captured by the Lord of Darkness, winter threatens to envelop the world forever. The only hope is that a forest prince and a motley band of dwarves, elves and fairies can rescue the unicorn, defeat the agents of Darkness and restore sunshine to the world.
The Collector's Edition of "Legend" will include an anamorphic widescreen presentation of the movie in its original theatrical aspect ratio. We currently do not have the exact details about the audio presentation of the film, although the disc is expected to include both, the original Jerry Goldsmith score, as well as the Tangerine Dream score – we will keep you posted once this has been officially confirmed. A commentary by director Ridley Scott is also part of the release, as well as a documentary with the title "Creating a Myth: The Making of Legend."
A selection of storyboards can be found on the disc, depicting the scenes of "Lily and the Unicorns," "Jack's Challenge," and the finale, "Downfall of Darkness." Music and storyboards depicting the lost scene "The Fairy Dance" will also be part of the release. Further you will find the original screenplay of the film, accessible through standard players, the film's theatrical trailer, production notes, biographies and a number of other features on this DVD.
Are you ready to fight the darkness? You better prepare yourself for this Collector's Edition from Universal Home Video that will hit retail on November 21 at a suggested retail price of $34.95.