Summer blockbuster Gladiator takes on all comers in November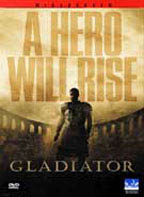 We've just received word that Dreamworks Home Video has announced the DVD release one of the biggest hits of the summer, Ridley Scott's Gladiator, this November.
The great Roman General Maximus (Russell Crowe) has once again led the legions to victory on the battlefield. The war won, Maximus dreams of home, wanting only to return to his wife and son; however, the dying Emperor Marcus Aurelius (Richard Harris) has one more duty for the general – to assume the mantle of his power. Jealous of Maximus' favor with the emperor, the heir to the throne, Commodus (Joaquin Phoenix), orders his execution – and that of his family. Barely escaping death, Maximus is forced into slavery and trained as a gladiator in the arena where his fame grows. Now he has come to Rome, intent on avenging the murder of his wife and son by killing the new emperor…Commodus.
The movie will come with an enhanced widescreen transfer, as well as a Dolby Digital 5.1 EX soundtrack. A DTS track is not yet confirmed, but since this is a Dreamworks Home Video release, there are many indications that the disc will indeed include a full 6.1 channel discrete DTS ES track. Extras on the disc will include: interviews, documentaries, an audio commentary, deleted scenes, and behind-the-scenes footage, which should certainly be enough to whet your appetites…
Dreamworks Home Video plans to release Gladiator on November 21st, with a suggested retail price of $29.99.
Let the games begin…