Sopranos DVD features exclusive interview and commentary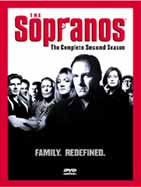 Oh, we really like this one.
Just in time for the holidays fans can own the thirteen hours that started a phenomenon when HBO Home Video brings The Sopranos: The Complete First Season to DVD. Winner of 5 Emmy Awards®, 'The Sopranos', starring newly Emmified James Gandolfini as Tony Soprano, is the story of a modern-day mob boss caught between responsibilities to his family and his 'family.' Approaching the premiere of the third season on HBO in March 2001, The DVD features thirteen episodes in a four disc DVD Collector's Edition.
Here's a synopsis for those who have not been fortunate enough to catch this great show: Mob boss Tony Soprano is having a midlife crisis. He's a loving husband and father, a dutiful son to his widowed mother, and the head of a 'waste management consultant' business in New Jersey. However, business is not what it used to be and after a series of anxiety attacks, Tony turns to a psychiatrist. But for a mob boss, therapy can have serious consequences.
Presented in widescreen format (!), 'The Sopranos: The Complete First Season' DVD features special bonuses exclusive to the DVD including an interview with creator David Chase. Shot on the set in Tony Soprano's kitchen and conducted by actor/director Peter Bogdanovich, the one hour and seventeen minute piece explores the making of the critically-acclaimed series. Other exclusive features include an audio commentary track for first episode given by Chase and Bogdanovich. The DVD also features two behind-the-scenes featurettes, episodic previews and recaps, cast bios, web links, an episode index, both Dolby Digital 5.1 and Surround tracks and even a Spanish mono track.
The set is scheduled for release on December 12. It will carry a suggested retail price of $99.98.
…and keep your eyes open for the early episode where the fellas are watching a bootleg DVD of The Godfather. Almost makes it seem like crime does pay….