Shanghai Triad coming to DVD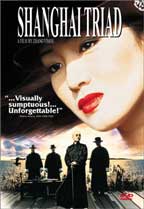 The elegant Chinese gangster epic Shanghai Triad is making its way to DVD this December, courtesy of Columbia TriStar Home Video.
Directed by Yimou Zhang (Raise the Red Lantern), 'Shanghai Triad' is a story of gangland feuding in 1930s Shanghai, and stars Li Gong, Baotian Li, Wang Xiaoxiao, and Liu Jiang. The film was nominated for an Academy Award for its gorgeous cinematography, and achieved international recognition with several other nominations and awards.
Columbia will present 'Shanghai Triad' in an anamorphic transfer, with Dolby 2-channel audio in the film's original Chinese, with subtitles available in English and Spanish.
The disc will be available on December 12th. It will have a suggested retail price of $29.95.