Paramount's DVD is the baddest muth…Shut your mouth!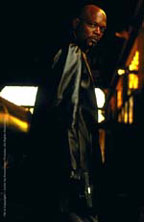 Paramount Pictures' Home Entertainment is bringing the action packed remake Shaft to DVD this December.
When spoiled college kid Walter Wade kills a young black student, John Shaft makes the arrest. Walter skips bail and flees the country, and after two years of waiting, Shaft hauls him back into custody as Walter secretly returns to the States. But when Walter's wealthy father posts bail once again, Walter is back out on the streets and looking to put Shaft in a body bag. So are two of Shaft's corrupt colleagues, as well as a Dominican drug lord who wants revenge on Shaft for humiliating him in the neighborhood he rules. Now Shaft's got to track down the one murder witness who can put all of his enemies away for good, even as the toughest killers in the city close in on him.
Directed by John Singleton (Boyz in the Hood), 'Shaft' stars Samuel L. Jackson as the man himself, Vanessa Williams, Dan Hedaya, Jeffrey Wright, Richard Roundtree, Christian Bale, Toni Collette, and that thespian supreme, Busta Rhymes.
Paramount will present 'Shaft' in an anamorphic widescreen transfer, letterboxed at 2.35:1. Sound will be Dolby Digital 5.1 as well as a 2-channel, Pro-logic track. Extras include: the 'making of' featurette, Still the Man;, Isaac Hayes 'Theme from Shaft' music video; R. Kelly 'Bad Man' music video; cast & crew interviews; and a trailer. Included are subtitles for the deaf and hard of hearing.
'Shaft' is scheduled for release on December 12th. It will have a suggested retail price of $29.99.