Pan & Scan version of the great white shark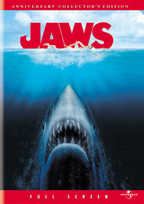 Universal Home Video has just announced the November release of Jaws Collector's Edition Full Frame. This special Pan & Scan edition (though using the word 'special' and 'Pan & Scan' in the same sentence is uncomfortable) is for those folks that prefer seeing their screens filled with picture from top to bottom as well as across. And Universal is smart for realizing that they comprise a larger portion of the viewing community than one might think.
The disc is essentially the same as the widescreen version, containing a Dolby Digital 5.1 audio track. The bonus features include: Spotlight on Location: The Making of 'Jaws' featurette, deleted scenes and outtakes, Get Out of the Water! trivia game, shark world, production photographs and notes, the theatrical trailer, interviews with cast & filmmakers, a screen saver, and a Universal Web Link.
The disc is slated for release on November 21st, and will carry a suggested retail price of $26.98.
Ouch!…just bit my tongue there…