More episodes from Zalman King's erotic series, Red Shoe Diaries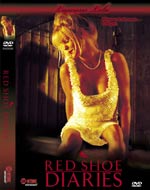 Showtime is giving DVD enthusiasts even more reason to stay up late with two new sets of episodes from Zalman King's steamy series, Red Shoe Diaries. Join Jake (David Duchovny) as he brings to life further chapters in six brand new 'unexposed' episodes of this highly successful series on two separate DVDs.
The first disc is called Luscious Lola, which contains three seductive stories personally selected by Zalman King as the most erotic treasures in his 'Red Shoe Diaries' collection: Mercy, Luscious Lola, and The Last Motel.
Then comes Four On The Floor, with three more erotic interludes: The Psychiatrist, Four On The Floor, and Emily's Dance.
Each disc contains three episodes which are letterboxed at 1.85:1. Extras include: screenplays, filmographies, a photo gallery of seductive images, original diaries, and a 'sexy' behind-the-scenes sneak peek (hmmm, that one's interestingly ambiguous…)
The release date for both discs is November 14th, and they will carry a suggested retail price of $24.98 each.