Kino serves up some rare and unusual fare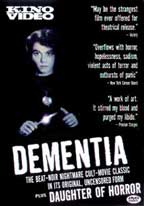 Kino on Video, those purveyors of the esoteric and wonderful, have some bizarre offerings for us this October:
Dementia (1953)/ Daughter Of Horror (1955)
A unique and utterly bizarre rediscovery, John J. Parker's 'Dementia' is a 1950s-style foray into the mind of psycho-sexual maddness. Set entirely in a nocturnal twilight zone that blends dream imagery with the cinematic stylings of film noir, 'Dementia' follows the tormented existence of a young woman, Gamin, haunted by the horrors of her youth, which transformed her into a stiletto-wielding, man-hating beatnik. Gamin moves about in a surreal sleepwalk, populated by prostitutes, pimps and would-be molesters.
Two years after its original release, a narration track of foreboding psychobabble (diabolically spoken by Ed McMahon) was added to 'Dementia', some controversial scenes were cut, and the title was changed to the more sensational 'Daughter Of Horror'. For 45 years, only this revamped version has ever shown. This Kino on Video edition presents the original cut of 'Dementia', digitally mastered from the 35mm negative, as well as the complete 'Daughter Of Horror' (from a 35mm print). The theatrical trailer, a pressbook, and a stills gallery round out the extras in this interesting package.
Read on…