Key 1980s film, The Stunt Man, comes to DVD in late 2001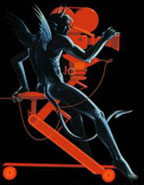 Anchor Bay Entertainment has announced a recent acquisition that has been sought after by many fans. Long considered to be one of the best films of the 1980s, The Stunt Man will make its way to DVD in late 2001.
Directed by Richard Rush and starring Steve Railsback, Barbara Hershey, and (of course) Peter O'Toole, 'The Stunt Man' was nominated for three Academy Awards (including Best Actor for Peter O'Toole and Best Director for Richard Rush) and was hailed by critics as a masterpiece of black comic perfection.
Anchor Bay will be presenting 'The Stunt Man' in its original aspect ratio with Special Edition features to be announced later. In addition, Anchor Bay will release Rush's acclaimed 1999 documentary The Sinister Saga Of Making 'The Stunt Man' as part of a special 2-Disc Edition of 'The Stunt Man.'