Image Entertainment invites you to their drive-in double feature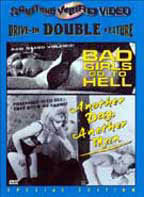 After posting today's article about another drive-in double feature, it was pointed out to us that last week saw the release of another disc with a similar theme. In the interest of fairness, we feel it's only right to give equal time, since this one slipped through our fingers…
As part of their Something Weird Collection, Image Entertainment has released Bad Girls Go To Hell/Another Day, Another Man: Special Edition.
Put together to resemble those wonderful experiences at the old drive-in theaters, this disc contains these two films from infamous exploitation director Doris Wishman. Using the 'Let's Go to the Drive-In!' feature allows uninterrupted playback of nearly three hours' worth of material, reproducing an experience at the drive-in in the comfort of your own home. The experience includes the two full-length features with crisp new prints presented full-frame, with Dolby Digital Mono soundtracks, as well as more than a half-dozen Wishman trailers, a 'book pitch' exclusive to the disc, plus a handful of intermission shorts, commercials and other errata. In addition, there's an Easter Egg that can only be accessed by watching the entire disc through to the end.
Image promises several more drive-in double features planned for next year, all including different extras. They have a huge assortment of drive-in shorts and rarities, all of which, they say, will eventually find their way to DVD.
The disc is already available, and carries a suggested retail price of $29.99.