Here now are the full details for the Legend Collector's Edition!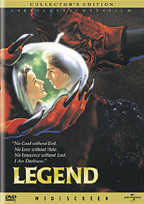 After we had exclusively unveiled some of the details of Universal Home Video's upcoming release of the Ridley Scott fantasy epic Legend yesterday, today we have been able to find out the full and complete details about this exciting release!
"Legend" will be released as a 2-disc set – the first for Universal Home Video, actually – and it will include everything any fan of the film could possible ask for. The first disc of the set will include the 113-minute long Director's Cut of the film with the sound track by Jerry Goldsmith, while the second disc will contain the 89-minute Theatrical Version, featuring the Tangerine Dream sound track. But that's still not all, folks. To make the best of this release, Universal Home Video has also decided to include a Dolby Digital 5.1 audio track of the movie on this Collector's Edition, as well as a DTS audio track on the same disc.
All other features of the disc remain unchanged as we announced them yesterday, but we have been able to find out some more about the documentary Creating a Myth: Memories of Legend that will be also part of the release. It will feature exciting interviews with director Ridley Scott, producer Arnon Milchan, writer William Hjortsberg, and make-up artist Rob Bottin, as well as many of the actors, including Mia Sara, Tim Curry, and Alice Playten. Given the troubled history o fthe film, this documentary will give audiences a good idea about the problems and tribulations this production went through at the time.
A selection of storyboards can be found on the disc, depicting the scenes of "Lily and the Unicorns," "Jack's Challenge," and the finale, "Downfall of Darkness." Music and storyboards depicting the lost scene "The Fairy Dance" will also be part of the release. Further you will find the original screenplay of the film, accessible on DVD-ROM drives, the film's theatrical trailer, production notes, biographies and a number of other features on this DVD.
Are you ready to fight the darkness? You better prepare yourself for this Collector's Edition from Universal Home Video that will hit retail on November 21 at a suggested retail price of $34.98.