Fox extends an invitation to Big Momma's House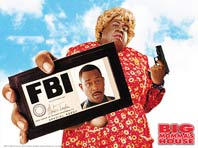 20th Century Fox has announced the release of the Martin Lawrence comedy, Big Momma's House in November.
Disguise the limit. Martin Lawrence is the crafty FBI agent Malcom Turner, who's willing to go through thick and thin in order to catch an excaped federal prisoner. Nia Long plays Sherry, the con's former flame who might have the skinny on millions in stolen loot, and she's headed for Georgia to lay low for a while. That's enough to send Malcolm deep undercover as Big Momma, an oversized, overbearing Southern granny with an attitude as tough as her pork chops. The result is an outrageous comedy of epic proportions…
The release date is November 28th and the disc will carry a suggested retail price of $26.98.
We'll post specific information as soon as we get it, so check back for updates.