Four action-packed films comprise The Wolfgang Petersen Collection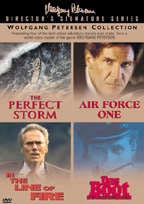 Columbia Tristar Home Video salutes Academy Award nominated director Wolfgang Petersen with The Wolfgang Petersen Collection, a DVD four-pack which includes the box-office smash, The Perfect Storm, Air Force One, In The Line Of Fire and Das Boot.
Coinciding with the release of 'The Perfect Storm', this is a nice opportunity to own several of the director's biggest hits. The three other films are the previously released versions. Here's a quick rundown for you:
The Perfect Storm
In October 1991, a swordfishing boat, the Andrea Gail, was caught in the middle of the North Atlantic as confluence of weather conditions combined to form a killer storm known as The Perfect Storm. Stars George Clooney and Mark Wahlberg.
Anamorphic widescreen transfer, letterboxed at 2.35:1; Dolby Digital 5.1 Surround EX; 3 Audio Commentaris; Story Board Galleries; Behind-the-Scenes Documentaries: HBO First Look: Making The Perfect Storm, Witnesses to the Storm and Creating an Emotion with Composer James Horner; Featurette; a Conceptual Art Gallery with Commentary by Petersen; Production Stills set to John Mellencamp's Yours Forever, The Perfect Storm Theme; Theatrical Trailer; DVD-ROM Features; Web Access
Air Force One
A group of terrorists from Kazakhstan who hijack Air Force One and hold the President of the United States' family hostage in return for the release of their imprisoned leader. The burden of stopping these terrorists ultimately rests on the shoulders of the President, who has secretly remained on board the plane. Stars Harrison Ford, Gary Oldman, and Glenn Close. Widescreen and Full Screen transfer; Dolby Digital 5.1; Audio Commentary by Wolfgang Petersen
Das Boot: The Director's Cut
Intense and claustrophobic film that chronicles the lives of a crew aboard a German U-boat during World War II. Stars Jurgen Prochnow.
Enhanced anamorphic transfer at 1.85:1; Dolby Digital 5.1; includes 60 minutes of additional footage; an Audio Commentary by Director Wolfgang Petersen; making of/behind the scenes Featurette.
Note: as stated above, this disc is the previously released version and is a 'flipper', meaning that the disc must be turned over before the film is finished.
In The Line Of Fire
Clint Eastwood as a veteran Secret Service agent whose shameful secret is known to the serial killer (Malkovich) that eludes him. Also starring John Malkovich and Rene Russo. Presented in an anamorphic widescreen transfer at 2.35:1, the disc also contains a Dolby Digital 5.1 audio track.
The Wolfgang Petersen Collection will be available on November 14. The suggested retail price will be $75.95.