Dreamworks dishes up a fowl treat with Chicken Run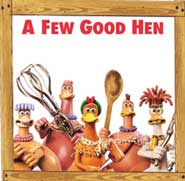 The good folks at DreamWorks are preparing to bring one of the surprise hits of the summer to DVD this November, with the release of Chicken Run (Special Edition) .
The animated 'Chicken Run' follows the story of a group of chickens determined to fly the coop for good! Led by the rough-and-ready newcomer Rocky, the chickens of Coop 17 hatch an elaborate plot to escape from the clutches of the menacing Mrs. Tweedy before she serves them up as pies.
Directed by Nick Park–the brilliant mind behind the Wallace and Gromit series–and Peter Lord, this creative bit of filmmaking stars the voice talents of Mel Gibson, Miranda Richardson, Jane Horrocks, Timothy Spall, Phil Daniels, Benjamin Whitrow, and John Sharian.
DreamWorks will present 'Chicken Run' in a Widescreen print, Enhanced for 16X9 TVs. A choice of soundtracks will include 6.1 DTS ES, Dolby Digital 5.1, and 2-channel Surround. Extras include: an Audio Commentary, NBC's Making Of Chicken Run, HBO's Hatching of Chicken Run, and a trailer. The disc's DVD-ROM features include: interactive family features, a read-along; screaming chicken panic button; and fun facts. Sounds like a fun time all 'round.
The disc is scheduled for release on November 21st. It will have a suggested retail price of $26.99.