Columbia brings great comedy to DVD with His Girl Friday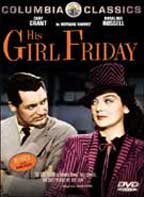 Columbia TriStar Home Video is pleasing many people by bringing His Girl Friday to DVD in November. Many public domain versions of this great comedy exist in the marketplace, but all of these are badly transferred products that insult the legacy of this film. With this release, Columbia gets an opportunity to rectify that situation…
This remake of the classic play 'The Front Page' is directed by Howard Hawks, and features Cary Grant as Walter Burns, the conniving newspaper editor, Rosalind Russell as Hildy Johnson, his star reporter and ex-wife, and Ralph Bellamy as Bruce Baldwin, the mama's boy she is about to marry.
Columbia Tristar gives us the movie in its original standard aspect ratio of 1.33:1, with a Dolby Digital Mono soundtrack in English and Spanish. Included are subtitles in: Chinese, English, French, Korean, Portuguese, Spanish, and Thai.
Included with the disc is Cary Grant on Film: A Biography, a documentary that looks at Cary Grant's career with film footage and nostalgic photos. The documentary has an introduction by Tony Curtis.
Columbia has scheduled 'His Girl Friday' for release on November 21st. It will carry a suggested retail price of $24.95.
Enjoy…