Buena Vista brings us The Straight Story in November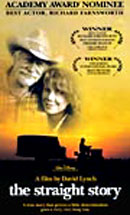 From twice Academy Award®-nominated director David Lynch comes a lyrical portrait of one man's real journey across America's heartland. Filmed along the route that the actual real Alvin Straight (Richard Farnsworth) traversed in 1994 from Laurens, Iowa, to Mt. Zion, Wisconsin, The Straight Story chronicles Alvin's patient odyssey and those he meets along the way. When not rolling along at five miles an hour aboard his '66 lawnmower, Alvin encounters a number of strangers, from a teenage runaway to a fellow World War II veteran. By sharing his life's earned wisdom through simple stories, Alvin has a profound impact on these characters who color his pilgrimage.
The critically acclaimed movie stars Richard Farnsworth (nominated for a Best Actor Oscar®), Sissy Spacek, Harry Dean Stanton, , Everett McGill, John Farley, and Kevin P. Farley.
Buena Vista Home Entertainment has scheduled the disc's release for November 7th, with a suggested retail price of $32.99. We'll give you the full details as soon as we have them…