Warners set to release The Perfect Storm in early November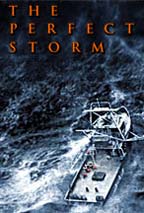 We've just received word that–not to be outdone during this time of moving blockbusters swiftly from theaters to your home–Warner Brothers will release The Perfect Storm to DVD on November 7th.
Based on a true story, 'The Perfect Storm' tells the story of the 'Andrea Gail', a fishing boat which left Gloucester, Mass. and headed for the fishing grounds of the North Atlantic. Two weeks later, an event took place that had never occurred in recorded history.
The movie, which stars George Clooney, Mark Wahlberg, Diane Lane, and the always wonderful John C. Reilly, was directed by Wolfgang Petersen and can still be seen in some theaters. The information that we have is that the DVD will feature an enhanced anamorphic transfer and a Dolby Digital 5.1 soundtrack (though we're hoping for an EX 6.1 and a DTS track as well).
Check back often because as soon as we have more information we'll post it right away for your perusing pleasure…