Walt Disney Pictures brings you a sequel to The Lady & The Tramp in 2001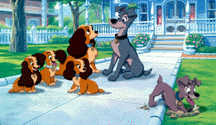 It's coming in Spring 2001 — the Disney sequel that audiences have demanded! Lady & The Tramp II: Scamp's Adventure continues the animated magic from one of Disney's most beloved films, premiering on video and Disney DVD in the Spring of 2001.
A first rate vocal cast adds to the excitement of "Lady & The Tramp II: Scamp's Adventure." Included in the voice talent are Scott Wolf as Lady and Tramp's spirited son, Scamp, and Alyssa Milano as Scamp's friend, the female stray named Angel. Jodi Benson is Lady, Jeff Bennett voices Tramp, Chazz Palminteri is Buster, the leader of the strays, Cathy Moriarty is the flirtatious Ruby, Bronson Pinchot is Francois, a French bulldog, Mickey Rooney is Sparky, the elder statesman of the junkyard, and Bill Fagerbaake is Mooch, a sweet-natured English Sheepdog.
In "Lady & the Tramp II: Scamp's Adventure," Lady and Tramp have puppies of their own, and live happily under the roof of their human friends, the Darlings. Lady and Tramp's three daughters, Annette, Colette and Danielle, love the domesticated life, but Scamp, their mischievous son, wants nothing better than to see the world outside.
Longing to be wild and free, like his father once was, Scamp takes up with the Junkyard Dogs, a group of strays who seem to represent the free and easy lifestyle. When Scamp meets Angel, a lovely female stray, Scamp believes he's right where he belongs. But Buster, the Junkyard Dogs" leader, is not about to make it easy on "the house-dog," whom he sees as a rival. Will Scamp choose an uncertain life on the street, or learn to appreciate the unconditional love that only a family can give?
Taking its cue from the original "Lady & the Tramp"" story, this upcoming sequel is set in the same early 20th century town as the first film. The returning cast includes such supporting characters as Jock, the Scottish terrier, Trusty, the old bloodhound and, of course, Aunt Sarah and her devious Siamese cats, Si and Am, immortalized in the first film in the memorable "Siamese Cat Song.'