Walking With Dinosaurs property makes transaction complete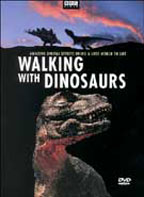 BBC Video has announced the final transition of its distribution agreement with Warner Home Video with the transfer of video rights for Walking with Dinosaurs as of September 1, 2000.
Co-produced by the BBC and Discovery Channel, the phenomenally popular series recently won Emmy Awards for Best Animated Program, Best Sound Editing, and Best Special Effects for a Miniseries, Movie or Special. The series has earned the distinction of being the most-watched documentary ever in the history of cable television when it originally premiered on Discovery Channel this past April.
Under this agreement, Warner Home Video will act as the sales and distribution agent of the BBC Video® label, previously distributed by CBS/Fox Video. BBC Video® is the home of BBC's premiere entertainment family, factual and drama programs, which includes a catalog of over 300 titles.
'Warner Brothers is the largest video distributor in North America and we believe Walking with Dinosaurs will be a significant addition to the Warner Home Video catalog,' said Burton Cromer, VP, BBC Video Marketing. 'We've been shipping our entire catalog through Warner since June, a catalog which includes titles such as the comedy classic 'Absolutely Fabulous', costume drama 'Elizabeth R' and 'Sister Wendy's Story of Painting.' (which, if you've never seen it, is delightful as well as educational…)
More than half a million Walking with Dinosaurs DVDs and home videos have been sold since the April 18 release date and sales are expected to reach one million by the end of the year. (and the DVD is so good that it received DVDReviews Gold Seal of Excellence…see our review)
The series marks the first natural history account of dinosaurs and uses leading-edge computer generated image (CGI) technology to provide a look at dinosaurs in their natural environment. The CGI animation in Walking with Dinosaurs is the same state-of-the-art computer animation featured in popular films like Gladiator and Star Wars: Episode I. The series is targeted to families, with particular appeal for children ages 5-12. It was funded through a BBC/Discovery/TV Asahi co-production in association with ProSieben and France 3.
The DVD carries a retail price of $34.98.