Universal dims the lights in October with Pitch Black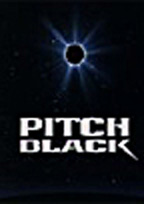 The Halloween frightfest continues with the announcement from Universal Studios of the release of the sleeper horror flic Pitch Black this October.
A starship carrying passengers crashes on an abandoned planet that is surrounded by three suns. There is no such thing as night on this planet except for the darkness provided by a total eclipse of all three suns that occurs once every 60 years. The survivors fear for their lives because of a technologically altered serial killer who is now on the loose. They soon discover that this deadly man might be their only chance for survival against the carnivorous alien species that come out from their subterranean dwellings during the lightlessness of the eclipses. Their fates are soon sealed with the approaching darkness.
The film will come with an Anamorphic Widescreen transfer, Letterboxed at 2.35:1, and feature both Dolby Digital 5.1, and DTS 5.1 soundtracks. Special features include: Audio Commentary, Production Info, Cast/Crew Biographies, and a Trailer.
Universal is releasing 2 versions of 'Pitch Black': an R-rated and an Unrated version. The Unrated version runs 3 minutes longer; otherwise the contents of both are the same.
Both versions will be released on October 24th and carry a suggested retail price of $26.98.