U-571 hits the waters in October!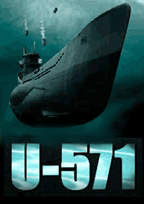 Universal Pictures will try and sink some heavy competition by releasing this year's hit, U-571 in October.
Directed by Jonathan Mostow and starring Bill Paxton, Matthew McConaughey, and Harvey Keitel, the movie is a white-knuckle World War II suspense drama about an American submarine crew's battle against time-and the fears that arise while carrying out a daring mission to capture a top-secret encrypting device from a Nazi U-boat.
Universal is releasing 'U-571' as a Special Edition which will include an Enhanced Widescreen transfer in the film's original 2.35:1 aspect ratio, as well as both Dolby Digital and DTS 5.1 audio tracks that are sure to give your subwoofers a good workout.
Special features of this Special Edition will include: an Audio Commentary, a 'Making Of' featurette, Cast/Crew Biographies, Interviews with the Cast & Crew, a Historical piece on U-boats and the Enigma, and DVD-ROM content.
The film will be released on October 24th and carry a suggested retail price of $26.98.