Tucker: The Man and His Dream cruises to DVD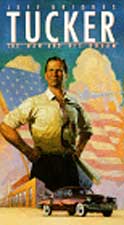 Paramount Home Video is bringing Francis Ford Coppola's underappreciated Tucker: The Man and His Dream to DVD. This is a smart, sassy and stylish film about Preston Tucker, who tried to build 'the car of the future' in the 1940s, only to be crushed by the Big Three auto makers and their political cronies. It stars Martin Landau, Jeff Bridges, Dean Stockwell, Frederic Forrest, Joan Allen, and Mako.
Paramount is giving us the disc as a Special Edition, complete with an enhanced widescreen transfer, letterboxed a 2.35:1; Dolby Digital 5.1 audio, as well as a 2-channel surround track, a 'making of' featurette, audio commentary; and a 1948 promotional film 'Tucker: The Man and The Car' with Francis Ford Coppola commentary.
The disc is set for release on October 24th, and will retail for $29.99.