Trimark unleashes Schwarzenegger as Hercules in New York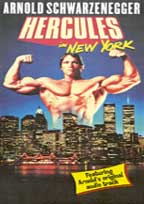 Now, this could be a lot of fun.
See Arnold Schwarzenegger as the mythological Hercules! Toga clad and ripped to Mr. Universe proportions, Hercules is bored with life on Mount Olympus. When he declares his desire to live among earthly mortals, his father Zeus hurls an angry thunderbolt at Hercules and sends him plummeting to Earth. A freighter bound for New York picks up the waterlogged demigod and thus begins a raucous, muscle-bound adventure that pits New Yorkers against the godly denizens of Mount Olympus!
Trimark Pictures brings us Hercules in New York, Arnold Schwarzenegger's first feature film, (as 'Arnold Strong'!). The 1970 film, directed by Arthur Allan Seidelman, stars the man himself as well as Richard Herd, James Karen, Arnold Stang, Ernest Graves and Deborah Loomis.
The disc will be released on October 24th and will carry a suggested retail price of $19.99. The only details we have so far is that it will have a mono soundtrack, BUT, that soundtrack includes the original audio track of Arnold himself, which apparently hasn't been heard since some studio executives decided it should be dubbed.
Our curiosity is certainly piqued…