The Matrix DVD First Ever To Sell Three Million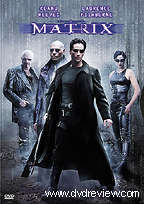 Warner Home Video announced today that their DVD version of the Oscar®-winning smash-hit movie, The Matrix has exceeded the three million mark in units sold in the U.S., solidifying its position as the #1 best-selling DVD of all time. At the first annual DVD Festival 2000 Awards, "The Matrix" DVD garnered three honors: Best Supplementary Material Presentation, Best Use of DVD-ROM Features and Best of Show.
In further recognition of the sales strength and consumer popularity of the disc, the Video Software Dealers Association members voted "The Matrix" "DVD of the Year" and "Special Edition DVD of the Year", and awarded it "Platinum Level" certification as the first to reach sales of two million. "The Matrix" won four Academy Awards® -for Best Editing, Best Sound Effects Editing, Best Visual Effects and Best Sound.
Bravo to the Wachowski Brothers and everyone else involved with this terrific movie. We look forward to the next installment(s) in the series.