Take a trip to the stars with 20th Century Fox's Titan A.E.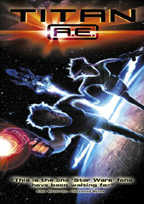 20th Century Fox Home Entertainment has just unveiled details about the upcoming release of their animated movie Titan A.E.. Scheduled for release on October 31 this release will be the first DVD from the studio to feature a DTS audio track!
Featuring the voices of Tone Loc, Drew Barrymore, Nathan Lane, Matt Damon, Bill Pullman, Jim Breuer, "Titan A.E." is the story of a journey that begins after Earth ends. A rebellious teenager named Cale embarks on an adventure through space to find a legendary spacecraft, the Titan, which holds the secret to salvation for the human race. With the deadly Drej aliens close behind and betrayal from within, Cale must become a renegade warrior and a new kind of hero as he completes his mission to find a whole new world.
The DVD will feature a 16×9 enhanced widescreen transfer of the film in its 2.35:1 aspect ratio and contain a 5.1 channel Dolby Digital audio track, as well as a DTS audio track. As supplements, the release will also contain 4 Deleted Scenes, a "Making Of" Documentary, a Still Gallery with over 200 stills from the movie, as well as the theatrical trailer and TV Spots.
"Titan A.E." will carry a suggested retail price of $26.98 when it hits retail stores on October 31.