Romantics will be Keeping The Faith in October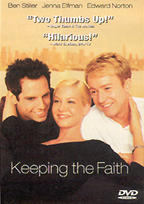 We just received detailed information about one of Buena Vista Home Entertainment's upcoming releases. Scheduled for release on October 17, the studio will bring us the romantic comedy Keeping The Faith starring Ben Stiller, Jenna Elfman and Edward Norton.
It is the story of Rabbi Jacob Schram (Ben Stiller) and Father Brian Finn (Edward Norton), who are dynamic and popular young men living and working on New York's Upper West Side, and have been best friends since they were kids. When Anna Reilly (Jenna Elfman), once their childhood friend and now grown into a beautiful corporate executive, suddenly returns to the city, she reenters Jake and Brian's lives and hearts with a vengeance. Sparks fly and an unusual and complicated love triangle ensues.
Produced by Touchstone Pictures, "Keeping The Faith" will come in a 16×9 enhanced version in the movie's 1.85:1 widescreen aspect ratio with a 5.1 channel Dolby Digital audio track. Although it is a day-and-date release, the DVD will actually contain a number of exciting extras, such as a running length audio Commentary Track by Director/Producer Edward Norton and Writer/Producer Stuart Blumberg. But also over 20 minutes of Deleted Scenes and a 8-minute Gag Reel will be part of this DVD release. Of course obligatory Cast and Crew Biographies and trailers will also be part of the DVD.
Running 129 Minutes, "Keeping The Faith" will carry a somewhat hefty $32.95 price tag when it will be released on October 17.