Michael Moore reveals The Awful Truth on DVD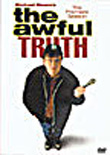 Fans of truly cutting edge television will be happy to hear that the folks at New Video are bringing the TV series The Awful Truth to DVD this October.
Acclaimed 'guerrilla' filmmaker Michael Moore (Roger & Me), who The New York Times called, '–insistent, persistent and far beyond embarrassment,' created a show that was shut down by the mayor of NYC, got Moore sued by a wealthy industrialist and landed the Corporate Crime-Fighting Chicken in Disney World jail. Each half hour episode is filled with scathingly funny observations that bridge comedy and controversy and places Moore in the middle of today's hot topics.
The 2 DVD set contains the entire first season, 12 episodes in all. Extras include a Michael Moore biography and deleted outtakes.
'The Awful Truth: The Complete First Season' will be released on October 31st with a suggested retail price of $39.95.