Gettysburg is finally making its DVD debut later this year!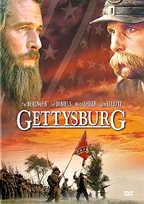 DVD fans have been waiting for the release of Gettysburg since the first day if the medium's introduction. Given the movie's length of 254 minutes, DVD seemed the perfect format to release this epic film about the Civil War, but it never appeared on any release lists. Finally we have gotten word that Warner Home Video has scheduled this epic film for release on December 5!
The fiercest battle fought on American soil commands the screen in an epic film achievement painstakingly recreating the people and events of three fateful days in July 1863. Tom Berenger, Jeff Daniels, Martin Sheen and Richard Jordan play key roles in this moving, passionate saga based on Michael Shaara's Pulitzer Prize-winning book "The Killer Angels" and filmed on actual locations.
The DVD will feature a 16×9 enhanced widescreen version of the movie in its 1.77:1 aspect ratio and contains a 5.1 channel Dolby Digital audio track in English, complemented by French subtitles. A commentary track by director and screenwriter Ronald F. Maxwell,
The Behind-the-Scenes Documentary "The Making of Gettysburg," featurettes and interviews with cast and crew members will also be part of the release. Theatrical trailers and TV Spots round off this incredible release, which seems to be Warner Home Video's first DVD-18 (dual-layer, double sided) release.
The DVD will have a $24.98 suggested retail price and as soon as more details about this highly anticipated movie come in we will let you know!