For whom the bell tolls – Disney brings you The Hunchback Of Notre Dame 2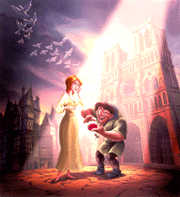 Once again, let the bells of Notre Dame ring as Disney's all-new movie The Hunchback of Notre Dame premieres on Walt Disney Home Video and Disney DVD in 2001.
Quasimodo, the lovable but lonely bellringer who became a hero, returns in this all-new, animated tale which transports viewers to the magical streets of medieval Paris. In a sweeping tale of love and adventure, Quasimodo faces a new villain, the circus master Sarousch, and a new challenge — romance!
`The Hunchback of Notre Dame II" features an all-star vocal cast of returning actors from Disney's original movie and a fresh new group of voice talent. Tom Hulce once more plays Quasimodo, Demi Moore returns as Esmeralda the Gypsy and Kevin Kline reprises his role as Phoebus, the Captain of the Guard. Jennifer Love Hewitt stars as Quasimodo's love interest, the circus performer Madellaine, and Hewitt also co-wrote and sings the film's end-title song. Haley Joel Osment voices the role of Zephyr, the son of Esmeralda and Phoebus. The wicked circus master Sarousch, Quasimodo's nemesis, is played by Michael McKean.
In "The Hunchback of Notre Dame II,' the people of Paris excitedly anticipate the traditional Jour D'Amour festival — a celebration of love centered on a beautiful, legendary bell known as La Fidele. When this jeweled bell is rung, couples step forth to shout their true love's name. But whose name will Quasi proclaim?
The festival is officially underway with the arrival of Cirque du Sarousch, a traveling circus. But Sarousch — the vain magician who leads the carnival — intends to get rich by making off with La Fidele. To distract Quasimodo, Sarousch sends in his beautiful assistant, Madellaine, to win the bell ringer's heart. Although Madellaine comes to care for Quasimodo and wants no part of stealing the bell, Sarousch uses her and takes the bell.
To return the stolen bell, Quasimodo must learn to trust Madellaine, and in doing so, Quasimodo discovers true love. With Madellaine at his side, and with the help of his friends Phoebus, Esmeralda, their son Zephyr, and Quasimodo's gargoyle pals, soon Quasimodo is proclaiming a love for himself at the Jour D'Amour festival.