Dirty Harry, Dirty Dozen, Bullitt and Time Machine get royal treatment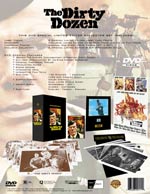 Creative Design Art, Inc. (CDA) has announced their upcoming October release titles of Deluxe DVD Collectible Sets from Warner Brothers' film library: Dirty Harry, The Dirty Dozen, Bullitt and The Time Machine.
Herb Dorfman, President of Steeplechase Entertainment Corporation, exclusive North American Sales Agent for Creative Design Art, Inc. said 'We have experienced a wonderful reception from both the home video industry and the retail market with our past releases–The Matrix, Casablanca, Blade Runner, Twister and Blazing Saddles–and we are optimistic about our fall series.'
Israel Baron, CEO of Creative Design Art, Inc. states, "The Senitype" continues to inspire movie fans worldwide in collecting the Deluxe Collector Sets. The Bullitt Senitype contains two very special images from the classic film and promises to be an exceptional artwork. He additionally states, "The Bullitt Deluxe Collector Set offers collectors a special edition screenplay script book from the film written by Alan Trustman."
'We search all over the world to find different items.' William Gardner, Executive Marketing Director of CDA explains. 'Our newest addition is the "Exclusive Collection" which are 6 original black and white photograph stills from the movie and promises to delight even the most skeptical fan".
Brian Jamieson, Vice President, International Marketing, Warner Home Video says, "Warner Bros. remains dedicated to producing quality film and programming for future Special Edition Box Set releases and continues to support Creative Design Art, Inc.'s dedication and enthusiasm to this project." These four motion pictures span four decades of colossal filmmaking earning nearly a billion dollars worldwide and will be significant editions to the growing catalogue of Limited Edition DVD Collector's Sets.
These Box sets contain the standard edition DVDs with a plethora of extras that include lobby cards, one-sheets, black & white photos and posters. They carry a suggested retail price of $79.98.