Cruise and Woo make the Impossible possible in November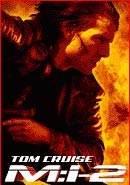 Paramount Pictures is getting set to release its most ambitious DVD to date with Mission: Impossible 2 in November. The DVD boasts the most special features ever for a Paramount title. The studio has been among the slowest to fully embrace the DVD platform and only recently has introduced a few titles that have more than a couple of extra features. But Paramount is riding the enthusiastic support and encouragement of Cruise and 'M:I-2' director John Woo. Woo recorded video and audio interviews for the DVD from the set of another motion picture he's shooting in Hawaii, Windtalkers, and Cruise not only did the same while promoting the picture's theatrical release overseas, but also made suggestions and approved all aspects of the menus and special features on the disc. He served as a producer on the film.
The story involves special agent Ethan Hunt (Tom Cruise) who…does it really matter anyway? Suffice it to say that the film is a romantic thriller that involves Hunt in a crisis of terrifying, international magnitude. With computer genius Luther Stickell (Rhames) at his side and a beautiful thief (Thandie Newton) on his mind, Hunt races across Australia and Spain on what seems like–wait for it!–an impossible mission to stop a villain before he can fulfill his own destructive mission. Based on the popular television series, 'Mission: Impossible 2' boasts a screenplay by Hollywood veteran Robert Towne (Chinatown) and features a special cameo appearance by Anthony Hopkins as Hunt's IMF boss.
The disc will feature a widescreen transfer of the film enhanced for 16 x 9 TVs, as well as Dolby Digital 5.1 audio. The list of extras include: several featurettes: 'Behind the Mission'; 'Mission Incredible' stunts; and 'Impossible Shots', which showcases how 11 amazing stunt sequences were created, including exclusive interviews with John Woo, Tom Cruise, stunt coordinator Brian Smrz and others. Other extras: a commentary track by director John Woo; exclusive cast and crew interviews; Metallica's music video of I Disappear; an alternate title sequence; and the MTV Movie Awards show parody, Mission Improbable with Tom Cruise, Ben Stiller and John Woo.
The DVD-ROM features of 'Mission: Impossible 2' include agent dossiers for Ethan Hunt, Sean Ambrose (Dougray Scott) and Luther Stickell; a look at the Legend of Chimera, mission locations and the tech tools and gadgets used throughout the film. It also contains links to a new high-tech 'Mission: Impossible 2' Web site that features games, a photo gallery, a screensaver and other bonus materials.
Paramount plans to release this loaded baby on November 7th with a suggested retail price of $29.99, which is a price with definite possibilities…