Criterion brings Pressburger/Powell and Spike Lee to DVD in October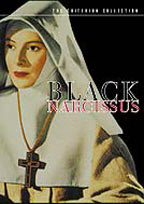 Criterion/Voyager has announced the October release of 3 films on DVD, each a classic in their own right. First are 2 films from the great team of Michael Powell and Emeric Pressburger:
Black Narcissus (1947) (Special Edition). Plagued by uncertainties and worldly desires, five Protestant missionary nuns, led by Deborah Kerr's Sister Clodagh, struggle to establish a school in the desolate Himalayas. All the elements of cinematic arts are perfectly fused in Powell and Pressburger's fascinating study of the age-old conflict between the spirit and the flesh, set against the grandeur of the snowcapped peaks of Kanchenjunga.
Criterion presents the film with a new digital transfer, created with the participation of cinematographer Jack Cardiff. Extra features include an audio commentary by late director Michael Powell and Martin Scorsese; Painting with Light, a new video documentary on Jack Cardiff and Black Narcissus by Craig McCall; and rare production stills.
I Know Where I'm Going! (1945) (Special Edition). In Michael Powell and Emeric Pressburger's stunningly photographed comedy, romance flourishes in an unlikely place–the bleak and moody Scottish Hebrides. Wendy Hiller stars as a headstrong young woman who travels to Scotland to marry a rich lord. Stranded by stormy weather, she meets a handsome naval officer (Roger Livesey) who threatens to thwart her carefully laid-out life plans.
The disc includes a full frame transfer with a mono soundtrack and is packed with extras that include: an audio essay by film historian Ian Christie; behind-the-scenes stills, narrated by Thelma Schoonmaker Powell; the 1994 documentary, I Know Where I'm Going! Revisited, by Mark Cousins; excerpts from Michael Powell's 1937 feature The Edge of The World and 1978 documentary, Return to the Edge of the World; a photo essay by 'I Know Where I'm Going!' aficionado Nancy Franklin, who explores the locations used in the film; and home movies of Michael Powell's Scottish expedition, narrated by Thelma Schoonmaker Powell
Criterion/Voyager also brings us Spike Lee's masterpiece, Do The Right Thing (1989) as a 2 disc Special Edition. Comedy and drama mark this landmark film about life in the Bedford-Stuyvesant neighborhood of Brooklyn on the hottest day of the year. Danny Aiello is the proud Italian-American owner of a pizza parlor at odds with his African-American customers over how his business should be run.
Disc One features an Enhanced Widescreen transfer in the original aspect ratio of 1.85:1, and comes with an audio commentary. Disc Two features Video Introductions by Spike Lee; a Video Interview with editor Barry Brown; a revisiting of the film's Bedford-Stuyvesant locations; the featurette, The Making of Do the Right Thing (60min.); behind-the-scenes footage; storyboards and film-to-storyboard comparison; and a theatrical trailer.
All 3 films will be released on October 17th and will each carry a suggested retail price of $39.95.