Criterion brings Eisenstein to DVD in October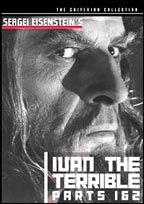 October seems to be classic cinema month for the folks at Criterion/Voyager. On the heels of yesterday's announcement of a trio of important films, they've announced the release of a boxed set of 3 films by one of the masters of cinema, Sergei Eisenstein.
Eisenstein: The Sound Years (Special Edition) contains 3 films made by the great Russian filmmaker in the latter half of his career. This trio of rousing action epics reveals a deeply unsettling portrait of the Soviet Union under Stalin.
Alexander Nevsky (1938, 108min.)–Eisenstein drew on history, Russian folk narratives and techniques of Walt Disney to create this epic tale of Alexander Nevsky's tactical brilliance. Widely imitated, the Battle on the Ice scene remains one of the most famous audio-visual experiments in film history, perfectly blending action with the rousing score of Sergei Prokofiev.
Ivan the Terrible, Part 1 and 2 (1945, 99min. & 1958, 85min.)–Eisenstein filmed two parts of his planned trilogy on the troubled 16th century Tsar who united Russia. Visually stunning and powerfully acted, 'Ivan the Terrible' charts the rise to power and descent into madness of essentially, a dictator. Though pleased with the first installment, Stalin detected the portrait in the second film–with its summary executions and secret police–and promptly banned it.
All movies contain new digital transfers in Full Frame with mono soundtracks in the original Russian with optional English subtitles. Extras include: 'Alexander Nevsky'–audio essay by film scholar David Bordwell; multimedia essay by Russell Merritt; the unfinished film Bezhin Meadow with photos and documents from the set; sketches and storyboards. 'Ivan the Terrible Parts 1 and 2'–multimedia essay by scholar Yuri Tsivian; multimedia essay by scholar Joan Neuberger; sketches and storyboards.
'Eisenstein: The Sound Years (Special Edition)' is slated for release on October 17th and will carry a suggested retail price of $79.95. Anyone truly serious about the study of cinema should take a look at the works of this important artist.