Columbia brings us 6 more from those 3 knuckleheads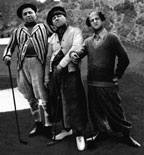 In November, Columbia TriStar Home Video will release another volume of 3 Stooges shorts on DVD.
The disc will contain the following hilarious episodes: A-Ducking They Did Go; Hoi Polloi; Half-Wits Holiday (aka No Gents…No Cents); Higher than a Kite; False Alarms; and Nutty But Nice.
This edition comes to us Full Screen, in glorious Black and White and spectacular, high-fidelity Mono. The disc will include options for English, Spanish and Portugese (and if you've never watched a Stooges short in Spanish you haven't lived…trust me).
Columbia will release this disc on November 14th. It will carry a suggested retail price of—Nyuk, Nyuk, Nyuk–$24.95.