Buena Vista brings us Halloween 6 & Hellraiser 4 in October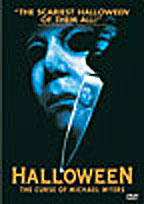 In time to make everyone's party list this Halloween, Buena Vista is releasing a couple of sequels from two of the most successful horror franchises of all time:
Halloween 6: The Curse Of Michael Myers (1995)
In a single night, Michael Myers' masked reign of terror changed Halloween forever. In this installment of the horrifying series, Myers is unmasked and the secrets of the infamous maniacal murderer are revealed. Six years after Myers was presumed dead in a fire, his hometown of Haddonfield is finally ready to celebrate Halloween, but so is Michael Myers. The only thing more terrifying than how it started, is how it ends!
I guess that Revenge wasn't enough, so he Returned during the Season of The Witch to Curse everyone from H to O…
Directed by Joe Chappelle, the film stars Paul Rudd, Kim Darby, and has the last 'Halloween' appearance of Donald Pleasance.
Hellraiser 4: Bloodline (1996)
In the year 2127, the ancestor of the toy maker in the 18th century, who built the evil puzzle box, seeks to permanently close the gates of hell.
Starring Valentina Vargas, Doug Bradley, and Bruce Ramsay, the movie was directed by the venerable Alan Smithee.
Both films are set for release on October 10th, and will carry a rather surprising suggested retail price of $32.99. But, hey, any film created by that master craftsman Alan Smithee, is worth it's weight in gold…