VCI Home Entertainment unleash Gorgo and Buck Rogers on DVD in August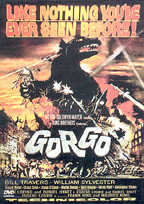 VCI Home Entertainment is currently busy at work to bring you the kaiju Gorgo in August. Currently scheduled for release on August 29, "Gorgo" is one of the great sci-fi monster stories of the 60s. It is the story of a sea monster that appears after an undersea earthquake. After being captured and brought to London for display, it significantly larger mother also decides to come ashore in London and begins thrashing the town.
VCI Home Entertainment is creating a new 16×9 enhanced widescreen transfer of the movie for Gorgo's debut on DVD, and will also include the movie's original theatrical trailer from 1961 on the DVD. You will also find interviews and a photo gallery on this disc when it will be released on August 29, carrying a suggested retail price of $24.99.
VCI Home Entertainment has also scheduled the release of the classic Buck Rogers starring Larry "Buster" Crabbe on August 29. All 12 chapters of the Buck Rogers' adventures will be available on one DVD, together with bonus trailers and a photo gallery. The DVD has a suggested retail price of $29.99.